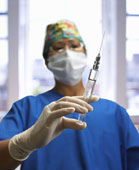 Why do Parents Refuse to Vaccinate Their Children? - A very unbiased and extremely well researched expose of the vaccine industry by Dr Sam Eggertsen. Long video but well worth a listen if you are undecided.
Swine Flu
- Is history repeating itself? Watch this 60 Minutes interview from 1979 and decide for yourself
Gary Null Exposes Vaccine Dangers Video 1
Silent Epidemic - Gary Null - The Untold Story of Vaccines
The Illusion of Vaccine Safety - Excellent article with well researched history on Asperger Syndrome and Autism
Make Your Own Vaccination Serum - A tongue-in -cheek video about Big Pharma vaccines
Vaccine Induced Disease - Very good article by Rebecca Carley, MD
1918 "Spanish" Influenza was a Vaccine-caused Disease
Investigation Chief: Swine Flu Pandemic was a Hoax
Vaccination; Good Medicine or Dangerous Quackery? - An interview with a former vaccine development scientist
Robert F Kennedy Jr on Vaccine cover-ups
Physician's Warranty of Vaccine Safety - download and present this form to your doctor to sign before your child's (or your) vaccination.
Health Nut News interviews Dr Jack Wolfson on the topic of vaccinations